Post by Jim Visel on Jun 27, 2010 22:00:05 GMT -5
Landing Zone Peace
By James W. Visel
Copyright ©1993,1999
ISBN 1-893856-02-X
Foreword
In the Fall of 1968, I happened to be visiting in Albuquerque at the home of by eldest brother Rob, whom I had not seen in several years. While there, my next oldest brother, Jim, returned through there from his final tour (of three) in Viet Nam.
While it might be expected that he be elated to be home, Jim was subdued. The ungracious reception that he and other servicemen had received in California added to that.
He talked little about the firefights, and had obviously been through more than he wanted to recount. As I recall, he had received several Bronze Star decorations, several Purple Heart decorations, several dozen Air Medals, and most of these had a "V" for valor. I saw a small box of them he wanted to throw away.
That was August of 1968. He was disgusted by the medals. Honors could not replace friends and buddies lost, and could never erase the images of horror of a war he had returned from, though many friends had not. Medals were cheapened by losses and politics.
To add to this pain, returning veterans were ridiculed, mocked, and reviled by their countrymen. Splashed by orange paint, rotten vegetables, and feces at the airports, they bore the blame for an unpopular war operated from the White House.
My own subsequent tour in Viet Nam was relatively removed from direct action, and I later returned un-plagued by memories as recounted here. I am thankful for true men of valor, such as he is.
Jim wrote this booklet that he might help other vets in some way, to unlock their chains to private wars that none others see, hear, or smell.
It is to Jim and the other vets of all wars that I dedicate this reprinting of "Landing Zone Peace."
Thomas Visel
December 21, 1999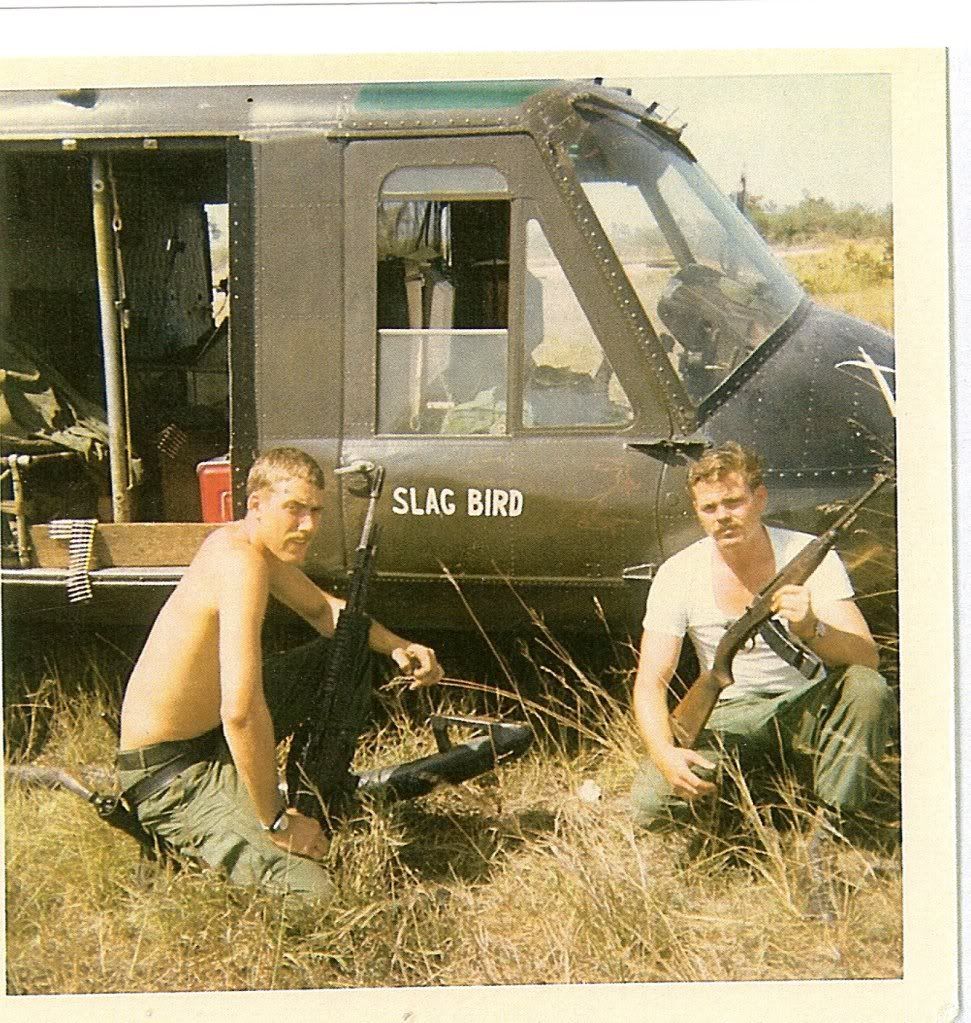 173rd AHC Crossbow Gunship '190 Jim Visel (r), John Stevens (l, killed March 1968) ®
CHAPTER 1. AL DARNELL
Several years ago I visited Al Darnel, a friend who had been admitted to the VA Hospital in Danville, Illinois. Al had cancer. It had been a total surprise to his friends and family; always wearing an infectious grin, he never complained, and until he collapsed, not even his wife knew. He had known something was wrong for some time, but he never let it show.
With the disease now in the last stages, he lay on the bed breathing irregularly. The dark bag of intravenous chemo-treatment dripped methodically, ominously, winding through a long tube that ended in his fore-arm. His hair was falling out in clumps, and it lay scattered about the pillow. He blew feebly at some that found its way to his lips, and his skin had taken on a sickly yellow sheen. He was without strength.
The silence was uncomfortable and long and I was at a loss at to what to say. I was shocked, and tried not to stare incredulously at my friend. Eyes watering, I turned away. "Al?"
His hand found mine. "Jim!" he croaked. A weakened and crooked version of his usual grin appeared, and he squeezed my hand, embarrassed by his condition.
Though I was quite familiar with the dying process, it's always a surprise with friends. I finally stumbled into conversation, talking absently. Inadequate, I blurted, "Listen Al, when you get out of here, we're going over to Rudy Frasca's and rent a Cessna, and we'll fly around the countryside, over your house, and over Lake Clinton. Then if you feel up to it, we'll fly up along the Illinois River. What do you think?"
He was quiet for a moment and then great tears leapt to his eyes. It was though a dam had burst. Not even his iron reserve could keep it back. He clutched my hand fiercely, and wept for some time.
Then, somehow strengthened, He took a deep breath and spoke in a low, shuddering voice. It was as though he was struggling to bring forth and lay down in front of me one of the heaviest weights a man can carry, something he had been burdened with for over 40 years. He told me a story that had been an experience of his during World War II. Yet so vividly was it expressed, with such clarity did it flow from the channels of his memory that it was as though it had happened the day before.
Al had joined the Navy at age 18; his first duty station was in Hawaii, all peaches and cream. He was the envy of all his buddies. His voice became stronger as he spoke, and he recalled how his life and destiny had changed radically. One day the Old Man had come to him and told him to turn all his underwear in to get it dyed green, as he was going into the Marines.
"Like hell, sir! A man has to volunteer to get into the Marine Corps," he protested, "and I am not about to." Never the less, they needed a pilot, and because he had flown a Piper Cub in civilian life, he found himself as co-pilot of a C-47, the military version of the DC-3.
Part of a team of 36 men, their job was to scour the combat areas of the Pacific islands to look for Marine pilots who had been shot down. Give only the last known sighting position, they would search for the unfortunate aviators. Finding one, they would parachute in, and with only machetes and hand-axes, cut a swath 200 yards long and 50 yards wide, know as a "swipe".
Then they would take the pilot, put a parachute harness on him, and rig it with several hundred yards of the newly-invented nylon rope. They would lay him down facing the approaching C-47, as two men held up a snag-line on bamboo poles, to be caught by a belly-hook mounted on the bottom of the twin-engine airplane.
With a successful catch, the downed pilot was again airborne, though possibly not according to his liking. He was snagged up, trailing along behind. Inside the C-47, the crew hooked the line and dragged the pilot inside, usually shaken, but not worse for the ride.
"We did this for the next two years, and on the last flight I was on, we were down to five men on the ground, and three in the plane. Everyone else had been killed. " Al murmured, " As we came down for our first pass, it seemed like there were Japanese snipers all over the place. We took several hits and missed the snag."
"To get rid of some of the sharp-shooters, we parachuted some first-aid supplies to them about half a mile away, and left the area for about 30 minutes. On the second pass, we snagged him, but as we climbed for altitude, something hit the side of my face like a base-ball bat. It was like being outside my body. I saw blood and brains all over the inside of the cockpit."
"Things started to turn dark and it was hard to see. Blood was in my mouth and nose, and dripped in my eyes. I noticed then the plane was starting to bank sharply to the left. At the same time the rudder was kicking erratically. I jerked the wheel sharply, wiped blood off the ball-and-tube indicator, and then wiped my eyes."
"Glancing at the skipper, I recoiled in horror. The upper half of his head was missing, and he was leaning over towards me. An artery deep inside was pumping dark blood out. His feet were jerking spasmodically on the pedals. I whirled away and vomited. How long I was in shock I do not know. "
"When I came to my senses, we were out over the open sea, without an island in sight. By this time the other crew-member came forward with the rescued pilot. They took the skippers body, which by this time was no longer kicking, to the back."
The other pilot took right seat, and we flew for almost two more hours before finding an island we recognized on the map. It must have been an hour later I ended up dead-sticking the C-47 into a belly-landing on the beach several hundred yards from our airstrip. We were out of gas."
"That was the last mission I flew, and I've never been in an airplane since." Tears slid down his face as he finished, "I've often wondered how many more pilots we could have saved, had I been able to get myself back together."
He looked at his shaking hands. "Jim, that was almost 45 years ago, and I've never forgiven myself. That is why I have cancer, I know it. I can't forgive myself. You understand, don't you?"
I nodded my head numbly. I never saw him again. Al Darnel died the next day, but before that night with him was over, Al had laid his heavy load down. I took it from him. It's just like Jesus once said, "Whose sins you forgive, they are forgiven them…"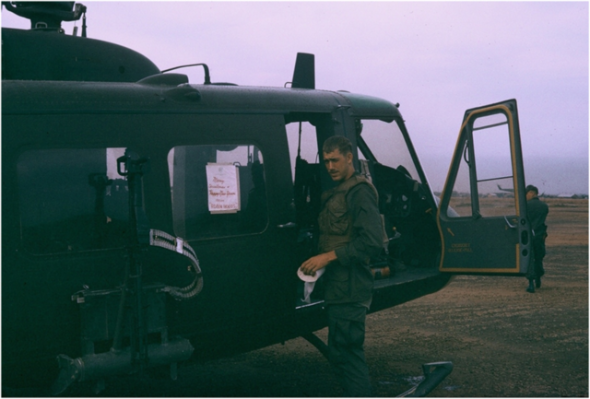 173rd AHC "Robinhoods" Christmas 1966
CHAPTER 2 MIKE DEARBORN
Mike Dearborn was a cop, a good one. He's an unusual mixture of wise-cracking and seriousness. Husband, and a father to two girls, he is unusually quiet and reserved, and a very conscientious man. If you can get him to talking however, he's the kind of guy that is fun to have at a party. Full of stories and a quick sense of humor, Mike can entertain a room full of people for hours with humorous anecdotes about life on the force.
Mike and I made several trips to Monterrey, Mexico to work on an orphanage and a church. Once during the drive someone asked me about Viet Nam. As I fielded the question, Mike suddenly became very quiet, unusually so, even for him. I eyed him curiously, and after a long silence he asked stiffly, "Jim, how can you talk about that stuff?"
He'd been with the 173rd Airborne, in Viet Nam's Central Highlands. If memory serves, he talked about "Hamburger Hill." His platoon had been engaged by a larger force while they were struggling up a hill, and while they gave a good account of themselves, they soon ran out of ammunition. Down to single, aimed shots, they finally engaged the enemy hand-to-hand. But overwhelmed by sheer numbers, Mike and several others were taken prisoner, all the others and the wounded were shot in the head.
Trembling and finding it difficult to speak, unable to describe the cages, the beatings, torture by fire and sharp bamboo slivers, he ended by pointing to part of a tattooed number on the inside of his forearm. "Jim if a dog shits on the sidewalk and I see it, I can walk around it and it won't bother me. But if I step in it, then the smell is all over me and I have to go home and wash."
"That's what talking about this is like. I can still hear the screams and the smell of burning bodies. I still smell the blood. You ever see a guy piss his pants because he's so scared?" It wasn't a story-book war. Then one day they forgot to tie me up and only left two guards on us. I killed them and several of us got away.
We drove on for some time in silence. Tail lights ahead on that lonely Texas highway flashed once and disappeared. "Mike you think I don't know? But you keep on stuffing it down in there. As long as you leave it in there it's going to fester. You got to let go of it. Let it out somehow and let it die. You can't carry that all your life. Sure you'll always remember, but you can at least get rid of the pain. If you let it go, it'll heal."
His eyes began to water. "You tell me: how do you get rid of it?" He turned away. The conversation was over. A door closed.
CHAPTER 3 JIM MITSDERFFER
In June 1944, a young Jim Mitsderffer was a tank commander who found himself in one of the first waves in the attack on Omaha Beach. From the hatch of his tank, he watched bullets patterning the water in front of the LST. The apprehension didn't come until the staccato rap of the machine guns sounded from shore.
To the right, the first landing craft to hit the beach dropped its apron in the sand. Men rushed out and hit the dirt. Most of them didn't move again. No tanks had landed yet. 200 yards off-shore the steersman stopped and chains rattled as the apron dropped. "We're on the bottom! Take off!"
The tank ahead of him roared and in a cloud of smoke, lumbered forward and out on the apron. It's gun dipped, touched the water, and the huge vehicle slid into the water…and disappeared, leaving only the cloud of exhaust smoke. Great bubbles foamed, became smaller, then stopped. The silence was deafening.
Waves lapped against the hull of the LST. Jim came out of the turret like a shot, stripping his jacket and pot. Another tank commander followed him. Together they dove into the depths. There in 26 feet of water lay the tank, upside down. They heard bare fists beating desperately against the inside. The crew was trapped forever! There was no way to get them out.
Horrified, they burst the surface, gasping for air. "That son-of-a-bitch stopped the boat because he was afraid!" Other LST's were now churning past them toward the beach.
"What are you going to do?"
"I don't know."
Clambering back aboard, they walked back to the steersman. "Hey! Can you swim?" asked Jim.
"No, I can't," came the reply.
"Well, you better learn how, because you just killed three good men!" Jim grabbed him by the arm and leg and threw him overboard. Pulling levers until the apron came up, he thrust the throttle full forward until the LST crunched to a halt on the sandy shore."
The tanks roared to life, and dodging incoming artillery rounds entered the battle. Three weeks later, weary, out of gas, and waiting for a fuel tanker, Jim and his crew were captured by a German patrol. After a long walk, they spent the rest of the war in a lice-infested prison camp.
The first thing the Germans took was their boots. As winter came, the camp filled with Belgian, British, French, and American prisoners. Once when it was filled to overflowing, the guards came during the night and made everybody fall out. Counting off the first hundred, they herded them into a house just outside the wire.
The windows were already boarded up. As soon as the doors were locked and boarded, a tanker came up and sprayed petrol all over the house. Tracers from a machine-gun ignited the fuel and the building was instantly engulfed in flames. The screams of the dying lasted long after the embers of the house were gone, for the hot coals on that cold night seared in their minds forever the horror of what was just done. The stench of burned bodies permeated the silent, horrified camp for weeks.
"In fact," Jim said quietly, "those screams lasted a long time. I heard them last night." His eyes were weary and lined. "And this is 1993…" he trailed off, pointing to the bottles of pills that he consumed daily.
"See those scars?" He raised his pant-leg, showing purple welts from ankle to knee. "I got frost-bite. I wore straw-filled gunny sacks for shoes that year. The German doctor wanted to cut my legs off, but I wouldn't let them. I did everything to get them to shoot me, but they developed a liking to me, and I spoke some German. They even brought me extra food, but I gave it away."
"My family here in America was German. My mother never did learn English." He looked at me with shining eyes. "You ever go the 'The Wall', the Viet Nam Memorial? I gotta go sometime. I hear it's something. You know I never talked about this?"
I left him with his thoughts, and on the way home, choked on my own.
CHAPTER 4 GOING HOME ON LEAVE
Late June, 1967, Lai Khe, Viet Nam. It was several days before I was to come home on 30 day leave. My stuff was packed. What little I was bringing home was in a bag under my bunk. The M-14 and web gear would be turned in before our chopper-rides to Ton Son Nuit. Doug, my gunner, was leaving tomorrow and I was leaving a few days later. I had transferred to Gunships (Crossbows) from 2nd Platoon Slicks and was looking forward tenuously to a little time off at home first.
"Spec 5 Visel, report to operations!"
I looked incredulously at the speaker up in the rubber tree. What now? Out of habit I was already at a dead run.
Behind the Ops counter was the Officer of the Day, and Major Sheaffer, Company Commander. He looked at me curiously. "Jim, I have one more mission for you." He never called me "Jim", it was always "Visel".
"…!? No way Sir! First I'm signed off status on the board. Second, I've been here for one and a half years. That's two hitches if you don't know. During that time, I've been wounded twice and shot down six times, once in Cambodia on one of those hair-brained CIA Eagle Flights. Somehow we always made it back.
Sir, since you've been here, every time you had some kind of volunteer thing, you sent somebody to fly my ship. I always went and never bitched once. Now I'm done for a bit. Not to mention I'm signed up for another tour that starts in 30 days, I not only did my share, but more than my share. No thanks, Sir! Find somebody else; it's their turn to carry the ball. I'm going home for a bit!"
"Visel, listen up! All that's true but it's not that sort of thing. 2nd Brigade (1st Infantry Division) ran into some real shit up west of Song Bey. One of their units has taken almost 75% casualties. Our slicks and others are pulling out the whiskeys (wounded), and Chinooks are evacuating the Kilos (killed)."
"I need for you to go find your gunner, take my jeep, and go down to the Dust-off pad. The Chinooks will land there. Graves Registration and all the medics they can find are already out in the field. There is nobody else I can send, and you guys have pretty much already seen everything, there's nobody else to send! Just off-load the kilos as quick as you can so they can get everybody out by dark. The Chinooks have to go back for more. Now go!"
"Dust-off" was well-named. It was the radio-name at Lai Khe for the Medical Evacuation pads. What passed for a forward hospital was located a stone's throw away, in the rubber trees. Every chopper that landed there kicked up a cloud of red dust upon takeoff and landing. During the rainy season, it was red mud. Perforated Steel Planks with a red cross marker indicated the touch-down points for the helicopters.
The two huge twin-bladed transport choppers were setting at flight idle as we pulled up. Both flight engineers stood outside attached to long comm. Cords. The both looked blankly at us. The starch in my fresh jungle fatigues swished as we walked casually up the ramp, and stopped.
"J-E-S-U-S C-H-R-I-S-T!" I stared in disbelief, turned, and slowly walked to the other one. There were 40 dead men on each one. Dead was not the word for it. Such carnage I had never seen in my life! Once as a kid, my Grandpa had taken me to a butcher-shop where we watched one of our steers being gutted. During the winter we almost always butchered a hog.
For the last 18 months, our helicopter company almost daily had pulled medical evacuations and kilo recovery from the field, often going where the Dust-off ships couldn't, or wouldn't go. So I had indeed seen just about everything there was to see. But nothing, nothing had prepared me for the dread hideousness of what I lived for the next eternity.
I looked at Doug, who had recently crashed and burned, losing a pilot, WO Newman, and a new gunner, Pfc Exum, and several of the passengers they were carrying that he was unable to rescue for the intensity of the fire. "You OK with this, Little Buddy?"
"Yeah," he took a deep breath, "Let's get it on. Poor bastards!"
There were stretchers, ponchos, blankets, and then there were just pieces. There were arms, legs, body parts. I walked an inch deep in black blood, viscera, brains, bone-chips, and shit. There were pink-and-purple sausage-looking guts hanging everywhere. Once I stepped on a hand. I stooped and picked it up, and it was not attached. I laid it on the next body.
At times when we picked up a body, its nerves would react and there was a sudden movement as though it were still alive. Sometimes there was a passing of gas, as though the dead man had farted. In fact he had. Once one of them made a noise; sort of a cross between a sigh and a long-drawn final groan. Not a word passed. There was only horrid, appalling amazement.
The stench was over-whelming. I do not know what these guys had walked into, but the blank looks on bone-white faces told stories that could not be spoken with words. What comes after surprise? Shock? Disbelief? Horror? Whatever it is, that was a common expression.
Dread revulsion permeated the dank air. A fetid cut-copper smelling and hideous odor, mixed with cordite and feces burned my nasal passages, and I kept swallowing flakes of vomit. It seemed like all the curses, misfortune, and calamity in the world has been focused in one place. I was in the middle of it.
The sickeningly-sweet redolence of fresh blood came, and Doug cursed, slipped, and went down on one knee. Moving the body had opened a gaping chest-wound. Deep crimson splashed underfoot. We both slipped and went down, but determined to not let the stretcher touch the floor. My butt and the side of my leg was covered with terrible slime as we struggled back up. Finally the last one.
"Hey! Over here!" The Flight-engineer motioned from the front of the ship. The huge turbines whined impatiently and I swore softly at them. He pointed over in the corner. There was a human head. Numbly, reluctantly, I bent to pick it up, and saw it belonged to a boy who couldn't have been 18 yet. He had light brown hair and blue sightless eyes. Blond peach-fuzz lined his cheeks, and he had been trying to grow a mustache. I reached up with my thumbs, closed his eyes, and carried the head outside.
Doug was vomiting. I searched for a body that had no head, but there were none, so I put it down with the others. We turned to unload the second ship.
CHAPTER 5 HOME
I sat on my bed late. It was early morning and there was no sleep to be had. The memories, mine and others were fresh tonight. I turned to watch my wife in the moonlight. The gentle rise and fall of her breast was comforting. We had been married 23 years this month. She was the girl of my dreams. Three times the mother of my children, she had been very understanding those first years.
I tried to review our special times together, to crowd out the approaching darkness, but these tonight were urgent. Somehow, they had a sense of destiny this time. I closed my eyes, and reluctantly looked, (in whatever realm dreams are in) and once again relived the sights, colors, sounds, and smells of Viet Nam.
We had been called from a re-supply mission to pick up a whiskey from over along the border. Some distance from Loc Nihn was an unusually-shaped clearing in the jungle, called "The Fly Swatter". Sometimes used as a temporary staging area for local operations, this area was often "hot".
Midway between Loc Nihn and the Fly Swatter was another long narrow clearing we called "the Needle". It was always hot; sometimes there was 12.4mm set up there! Yellow smoke was identified and marked a spot near the north end of the Needle. We crossed over the LZ in typical Robin-hood fashion and approached at 1500 feet-per-minute rate of descent; hard and fast. Just above tree-top level, green tracers licked up at us and we answered with our own (which were red).
It was even by our standards a fast, full-rpm landing, ready to immediately pop up and out of there after collecting our pac. Enemy fire from AK-47s sound like popcorn popping. Little John Atkins, the left door gunner, kept their heads down with his M-60. Cool under fire, he looked and acted like the preacher's son that he was. Once we had been shot down, and he pulled me (unconscious) from the wreck. We worked tight together, and each knew without a word what the other was thinking and doing.
With most of the pilots also, even though they were often assigned to different ships, a repore' between pilots and crew was an established entity, and we functioned smoothly as a fighting, flying team. It was a curious brotherhood, with some the officer/enlisted separation nearly vanished, yet the respect was always there. There were occasional deviations from that, but by and large, the Robinhood flight crews were incredibly close.
I stopped firing because the pickup was supposed to be from my side. Besides, most often we shot at sound, and the "popcorn" had stopped. Friendlies wouldn't be too far away. Still my finger was on a locked and load round, for we were incredibly vulnerable. Aside from the smoke grenade, there were no friendlies in sight.
Sudden movement in the bush on my side brought my gun to bear, all slack was out of the trigger, and at the instant of pressing the trigger, I sensed an American uniform in the woods. I caught a deep breath and impreceptably eased the barrel to the right, relaxing the trigger pull a bit. He never knew how close he came that day to dying. I cursed, and thanked God silently. Jeeze! That was close!
The guy was dragging something, which turned out to be his buddy on a poncho. Setting them-60 down, I leaned forward, reaching down and grabbed the wounded man by the front of the shirt, lifting him up onto the canvas bench seat. I noticed his foot was gone just about mid-shin. "Where is the rest of him?" I yelled into the Grunt's ear. Sometimes you do and ask strange things in adrenalin situations.
His pocket patch showed the 2nd of the 2nd Infantry, and the shoulder patch was marked with the Big Red One, or 1st Infantry Division. I was surprised they had their armor this far north. The guy looked at me blankly, and then shouted, "Wait! Don't go away!" Little John's door-gun chatter sounded occasionally from the other side.
He dashed back into the bush, returning minutes later with a combat boot. The shinbone was sticking out of it. I caught it on my chest, "Go! Go! Go! Go!" I shouted into the mike, and almost immediately we lifted and the blades coned forward. The helicopter was in transitional lift. Green tracers licked up at us again as we shot our way out of that LZ. A short time later we were at altitude; we checked for any hits, and then I went forward.
The Whiskey lying on the seat was bone-white under the red dirt and sweat. I held a canteen to his lips and He drank deeply. His eyes closed deliciously, gratefully. Then I cupped a cigarette in the wind stream, lit it and placed it between his teeth, and then examined him for other wounds. He had them, but not apparently serious.
Over the smell of sweat was the ever-present odor of adrenaline, fear, and blood. His stump was still bleeding, so I took the boot-lace off the dismembered foot and tied it off snugly. It still oozed. I tried several times to get a bandage on it but there was no way to fasten it. The wind whipped the tails of the bandage I had; a 6"x6" pad. I was making a mess of it and finally threw it all out the door. His shoulders convulsed, and finally I just held on to him. "Hang in there buddy, we're almost there!" He gave me a thumbs-up to say thanks and shut tear-stained eyes.
Where do dreams leave off and reality begin again? I tried to lift him by the shirt again to adjust him more comfortably, but couldn't. My adrenaline high had faded, and the realization of what we had just done began to set in. "Shee-it!" I breathed softly. My guts always ached when the adrenalin quit pumping.
He faded in and out of consciousness, and several times I thought he was gone. Then I realized he also had a gut-wound and was probably bleeding internally. "Better crank it Sir. This one needs a doc pretty bad!" I mouthed into the mike.
"We're balls to the wall now, Chief!"
"Crank it, Sir, we don't stay up til midnight every night for nothing, this girl can take it, and he won't make it if we don't. Red-line it Sir!"
The nose dropped and airspeed increased five, then ten more knots per hour. The needle was past redline, rotor rpm maxed. The UH-1D, workhorse of the army, was in her finest hour. She was a living thing and by God I loved her!
We bypassed several forward hospitals (at Quan Loi and Lai Khe) in favor of the big hospital in Bien Hoa. Given priority, we flew direct. They redirected artillery for us and we bypassed the lading pattern, flying straight in. When we landed I picked up the young man like a baby. Holding his dismembered foot in my hand, I walked him to the wheeled stretcher. "Doc," I pleaded, "see if you can put him back together, will you? Oh yes, and he's gut-shot!"
I handed the boot to one of the nurses. White tendon and bone again gleamed through shredded tissue. My fists clenched in frustration, and now finally I had time…and I hid my shaking hands in my pockets.
We shut down to examine the ship for hits. I had a hard time lighting a cigarette. There were four new .30 caliber holes in the tail-boom.
CHAPTER 6 THE DREAM
I grunted and reached for the soft reassurance of my wife. She shrugged impatiently, snoring softly. Susan was an RN and worked with premature babies in the Intensive Care Unit, and had worked late last night. Standing, I pulled the blinds and looked out over the city lights. Sleep would not come.
The memory was still urgent, and a sense of determination was pressing. I searched my experience for this unfamiliar feeling, but there was only a sense of pleading. My eyes burned as they closed tiredly, and it was there again.
---------
I struggled this time and grunted, picking him up. Somehow the years had done something to my strength. Or was it that there is no adrenalin in dreams?
His foot was in my hand again, but as I turned, there was no doctor, no hospital there. Instead, we had landed in a lovely, immaculately landscaped garden. The Huey's forty-foot main rotor blades were still winding down and the powerful turbine's whine changed pitch several times as it died. Before me was a huge, life-sized cross; a cross, you know, like in the Bible?
At the foot of the cross were about fifteen stretchers filled with dead and wounded. All had terrible wounds and some had plasma bottles hanging nearby. I looked and saw Army, Navy, Air Force, and Marine casualties there. There was one Army nurse lying there with a head wound. She was in a bad way.
An individual in jungle fatigues worked intently on a guy at the foot of the cross. But he looked up and motioned for me to bring my load. As I approached heavily, I looked behind him to a sign by the cross. There, the following words were inscribed;
"Come to me you who are weary and heavy-laden, and I will give you rest."
Under that were the words;
"Landing Zone Peace"
In my dream I stood in front of him with my friend, and looked in growing astonishment. To the left were five he had already worked on. They were not dead; they were not wounded any more, though the dried blood and torn clothes indicated that they had been not too long ago. A half-filled bottle of plasma lay discarded on the ground, the tubing and needle lay in the grass.
They were asleep. They slept! One had his hands clasped behind his head, one ankle over the other. Another was resting in a fetal position. He smiled, as though remembering some good thing. A third rolled over from his belly to his back, and began to snore softly. The back of his shirt was shredded, encrusted with blood. There was only fresh, pink skin there.
The one he was working on had two bullet-holes just above his heart. The name on his shirt was "Stevens". He placed one of his hands on Stevens' eyes and the other one over his wounds. Peace came over Steven's face. I knew this guy Stevens! He was from Phoenix, Arizona. I knew his Mom and Dad. We called him "Ranger". He had been a good friend, and we had seen combat many times together. Now John was asleep, and not dead!
He took my friend next, and his foot. Whoever he was, he was the most peaceful person that I had ever seen.
Someone called and I turned. Captain Jochetz and Little John had Lt. Goldschmidt and Chavez down on the ground. Goldschmidt had taken a round in the head, one in the arm, and one in the leg. Chavez had a bloody hole in the back of his neck. I motioned to bring them.
Someone called again and I looked. To my amazement, two GI's dressed in heavy parkas, mittens, and Micky Mouse boots were coming. One had a carbine and the other had a Garand over his shoulder. They carried a buddy between them on a stretcher towards the cross. They were from the Korean War!
I looked again. Behind them were two Marines, muddy, drawn, and exhausted. Between them, seated on their clasped hands, slumped a badly-wounded buddy. One carried a Thompson, the other a BAR. They were almost overcome with fatigue, yet they would not stop, but looked with tunnel-vision to the guy by the cross. The man they carried was already dead.
Following them were three dough-boys from WW I. Unshaven and covered also with mud, they had eyes for only one goal. They both had Springfield rifles with bayonets.
Behind them came the most amazing thing of it all. Two soldiers in Civil War uniforms, one in blue and one in gray; they were brothers, twins. The one from the North had lost his leg at the knee. It was puffed up, blackened with gangrene. He used his musket as a crutch, the muzzle in the dirt. His brother helped him.
Weary, worn out, with a glassy-eyed expression that looks through you without acknowledgment, they hobbled on. Beyond exhaustion, they were well into the final reserve that a man can sometimes dredge up from the depths of his being. They too faced singly towards the cross.
With all my senses on over-load, I looked the other way and saw two medics in desert fatigues, carrying a burden from Desert Storm.
I turned again. In my vision, suddenly all the figures had turned to bronze. The Landing Zone was indeed a garden, well landscaped. There was a gazebo there, and benches under shady trees. It was a place where a guy could come and finally lay down his heavy load. I did.
I wept, but for how long I do not know. The 24 years of pain were gone. He touched me, and I think I slept. When I opened my eyes, it was gone. The memory was there, but the pain was not.
EPILOGUE
I realized then, I have a date with destiny. I must build this garden; for my friends, for my brothers and sisters, by fathers, my mothers, and grandparents. Then somehow there was another sign. On it were the names of those from this community and the surrounding communities who had served in various wars. There were crosses beside some of them, and occasionally a star of David.
Upon the sign was inscribed;
"There is a time for war, and a time for peace. There is a time to wound, and a time to heal…"
REST
Under that was written a statement that was signed by the community:
"You were sent by our government to fight battles in far-off places.
Your resolve was tested by fire, and you were not found wanting.
Sometimes we did not agree with your being there, but it was no reflection on your honor, your bravery.
Someday swords will be pounded into plough-tools, and the lion will lay down with the lamb.
Until that time, please accept Landing Zone Peace.
From the citizens of this community, to our own who served."
Jim Visel
1992